Turn key deliveries to shipyards
RO-RO vessels completed by Rauma`s Aker Yard shipyard in 2006-2007: TRANS PAPER, TRANS PULP and TRANS TIMBER
A machine shaft is a shaft that extends from the bottom deck of the main engines to the top deck.
The exhaust pipes in the engine shaft protrude from the highest point of the ship to a height of 65 meters. (Notice the man above the shipping company logo.) After crossing the "Low" bridges on Oasis-class cruisers, the system raises the tops of the exhaust pipes (so-called slides, 36 tn.) 8 meters up.
At the top there is a strong but at the same time lightest possible structure to protect and support the exhaust pipes.
In these shafts here is an exhaust pipe of approx. 1 km. The inside diameter of the pipes of the six main engines is is about 1,5 meter
The shafts rising up 70m from the main engines have hundreds of meters of stairs, ladders and service levels.
The machine shaft also contains many equipment required for the various systems.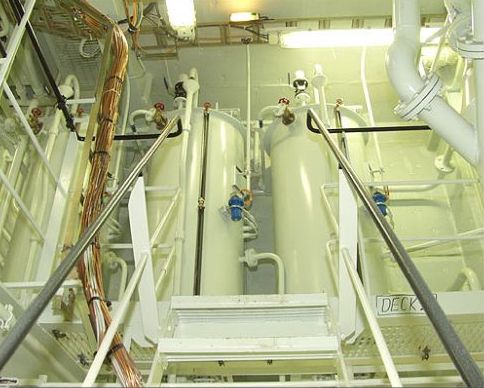 Several kilometers of pipelines from other systems have also been placed in the machine shafts.